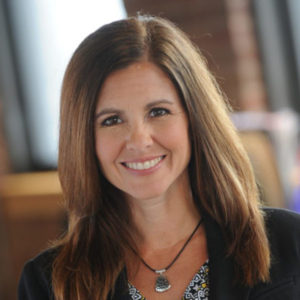 Kathy has more than 27 years of experience in strategic marketing, branding, PR and marketing communications, currently serving as Director of Marketing & Communications at The John Carroll School in Harford County, Maryland. The former Director of Marketing at Fallston Group, she worked tirelessly to uncover marketing communications strategies and opportunities that help the firm's clients grow. Prior to her time at Fallston Group, she owned JigSaw Marketing Solutions (named a Fastest Growing Woman-Owned Business by the Baltimore Business Journal in 2013 and 2015), a marketing firm with clients in a variety of industries including AEC, travel and tourism, hospitality, education, technology, visual communications, financial services, and more.  Kathy remains a trusted advisor to Fallston Group while working full-time at The John Carroll School.
A native of Baltimore, Kathy holds an undergraduate degree in mass communications with a concentration in journalism from Loyola University and a master's degree in marketing from Johns Hopkins University Carey Business School.
In 2002, Kathy founded JigSaw Marketing Solutions, a MBE-certified marketing and public relations firm she operated until 2016. The firm provided strategic marketing and public relations services to companies in diverse industries including AEC, legal, financial, nonprofit, toy, political lobby, advertising/web design agencies and children's' media. In 2014, JigSaw was awarded a multi-year contract to provide content for Destination Maryland, the annual publication of the Maryland Office of Tourism and Development. Read more at www.jigsawmarketingsolutions.com.
From 2011-2015, Kathy also served as a contributing writer for I95 Business magazine, in which capacity she pitched ideas, researched topics and interviewed area business people to write a regular column for the regional business publication. Previous employment included serving as a marketing coordinator for what was, at the time, the largest architecture firm in Baltimore; as a senior communications specialist for a boutique advertising and PR firm; and in various positions over 10 years in the toy industry where she concepted, designed, launched and marketed hundreds of new consumer products.
Kathy has written articles for various media including I95 Business, Specialty Retailer, Multifamily Trends, Perspectives on Design and the Harford Business Ledger. She has facilitated presentations and trainings for clients and groups including the Baltimore County Chamber of Commerce B2B Expo, Small Business Survival Summit, Society for Marketing Professional Services – Chesapeake Chapter, The Arc Northern Chesapeake Region. Greater Baltimore Medical Center Spiritual Advisory Board, Harford County Non-Profit Advisory Group, Top of the Bay Business Women and Signs By Tomorrow's national franchisee meeting, where she presented on best practices in public relations. She also taught a course at Harford Community College on "The Importance of Branding in 21st Century Marketing."
Civic Associations & Volunteer Work
Board of Directors Secretary & Treasurer, Friends R Family Foundation (mental health)
Harford County Mental Health & Addictions Advisory Commission member
Harford County Chamber of Commerce, Marketing Committee
Certified QPR (suicide prevention) Trainer
Chesapeake Professional Women's Network
Awards & Recognition
2017 ATHENA Leadership Award Recipient
Mayor's Business Recognition Award
American Marketing Association Award